---
Don't you just love a good bridge? Okay, so that's not the kind of thing you should ask someone on a first date, but bridges are pretty cool. In fact, millions of people across the world spend their vacations searching for the famous bridges they have seen so much of on television and in photographs. They might pose for photos on the Brooklyn Bridge, they might reach new heights on Tower Bridge, they might take in the views from the Golden Gate Bridge, or they might check out one of the newest bridges on the block… the Golden Bridge in Vietnam. In our eyes, it's a pretty handy bridge.
Where is it located?
If you're into your bridges and fancy a trip to Vietnam sometime soon, we'd definitely recommend getting hands-on with this brand new bridge. Located just outside of Da Nang in the Ba Na Hills, this bridge isn't used for cars or vehicles – and you probably wouldn't want to drive your car on it anyway. Instead, this bridge sits right on the edge of a cliff (no big deal), with literally nothing below it. As if that wasn't insanely cool and scary enough, it just so happens that this 492-foot-long walkway stands a whopping 3,280 feet above sea level. Do you fancy it? Don't worry if you're a little scared, because this bridge is so much more than any other bridge in the world, and it just HAS to go on your Instagram feed.
What's the big deal?
The big deal about this new bridge is that it really is something to look at. Of course, everything is something to look at – but this bridge is something special. Made entirely out of gold material, this bridge juts out of the cliff edge like "a strand of god's hair" and is then encased in "giant hands of God" that reach up out of the ground and grab the bridge. It's pretty darn cool. Thankfully, there are guardrails to keep you safe during your little wander through the giant hands, so you don't need to worry the strand of hair breaking off like a split end.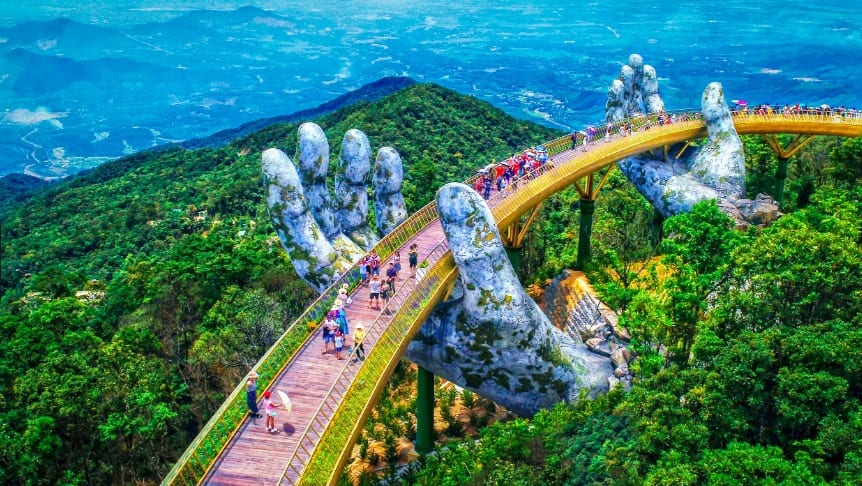 Why are tourists so buzzed?
So why the heck are people so amazed by this new bridge? Well, when you see the pictures, you'll see just why people are flocking to Vietnam to check out the Golden Bridge. Not only is it an incredible feat of engineering and utterly breathtaking to look at, but the local area also has a lot to offer – something tourists were missing out on without the bridge there. Yes, the local area of De Nang used to be an American military base during the infamous Vietnam War but has since been transformed into a bucket list destination. That's because this place is the ultimate mishmash of city life and beach vibes. You can wander around the bustling city, before taking a breather on the white sands and checking out the local catch of the day. As if that wasn't enough to entice you to book your flights, De Nang also offers beautiful temples and caves for you to explore at your leisure. I mean, what more could you want?
What's next?
There's no doubt that people will be flocking in their droves to check out this latest bridge, but it seems as though the designer of the bridge isn't going to stop there. He plans to build a second bridge made out of silver that will connect to the gold bridge so that they intertwine and create on the giant bridge of wonder. There's no news yet on when this new bridge will come to light, but we have a feeling it will bring even more people to the area.
If you've always wanted to go to Vietnam but never got round to it, you should probably now put it at the top of your vacation list – because you're definitely going to want to see this bridge in the flesh.