---
Going on vacation can be stressful, especially when you're taking kids with you. Keeping them happy is a full-time job, which is not what you want when you're supposed to be on a break from work. Luckily, there are some hotels out there that are designed to keep your kids happy so you can rest easy on your vacation. These establishments have rooms designed to keep your children thoroughly entertained, so you never have to worry about them not having a good time.
Legoland Resort Hotel
If your kids are fans of Lego then a vacation to one of the various Legoland resorts around the world is probably in your future. Wherever you go, your family is sure to have a blast being surrounded by lego-themed everything. A lot of thought has gone into the design of this resort, from the design of the furniture to the color of the walls.
One hotel that might suit your children is the one in Windsor in the UK. Their range of Ninjago rooms has everything that a budding ninja could want, from intricately-designed Lego weapons to a hatching dragon egg. All the running around and play-fighting might not help you relax, but your kids are sure to love their time here. A stay costs as low as $185, so it's worth looking into if you're hoping to vacay across the pond.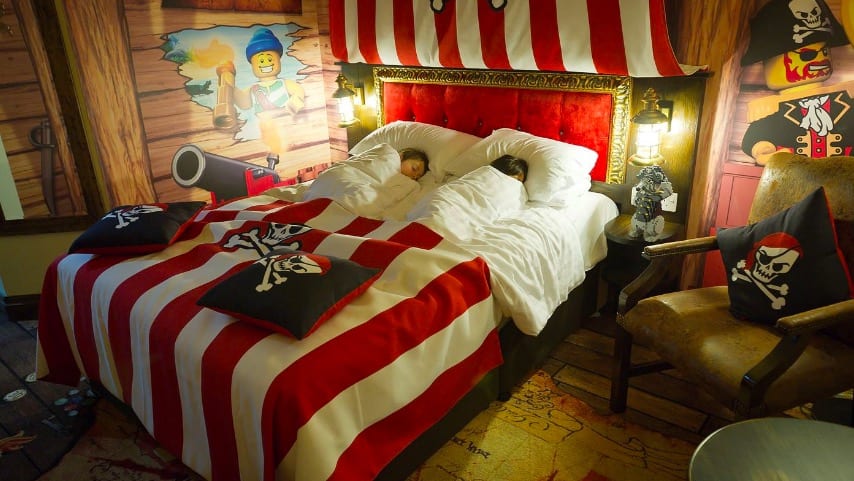 Walt Disney World
Another resort that's a little closer to home, but just as exciting, is Walt Disney World in Florida. Disney fans (both young and adult) will enjoy the extensive range of rides and merch on offer here from all of their favorite classics, whether well-known or slightly obscure. However, it's the hotel rooms that are the real icing on the cake here.
The park has a variety of uniquely-themed rooms on offer, but it's the Cinderella Suite that's truly special. You can't make reservations to stay here, with all nights in the suite offered as sweepstake prizes throughout the year. If you're lucky enough to win a stay in this room, you'll have a regal experience awaiting you that will transport you back in time. If you've ever wanted to live like Cinderella (post-domestic slavery, of course), this is the hotel room for you.
Alton Towers Hotel
Kids and candy go together like salt and pepper. The combination of the two might not be great if you're looking for some relaxation, but at least it keeps the little ones happy. For true sugar fans, the Chocolate Room at the Alton Towers Hotel in the UK is worth a stay.
Designed as a railway cabin, the room boasts a chocolate-themed color scheme. However, it's the sweet treats hidden around the room that are the real draw. It's an excellent way to keep your kids busy that will reward them for their putting in some effort. Plus, a stay here only costs a few hundred dollars.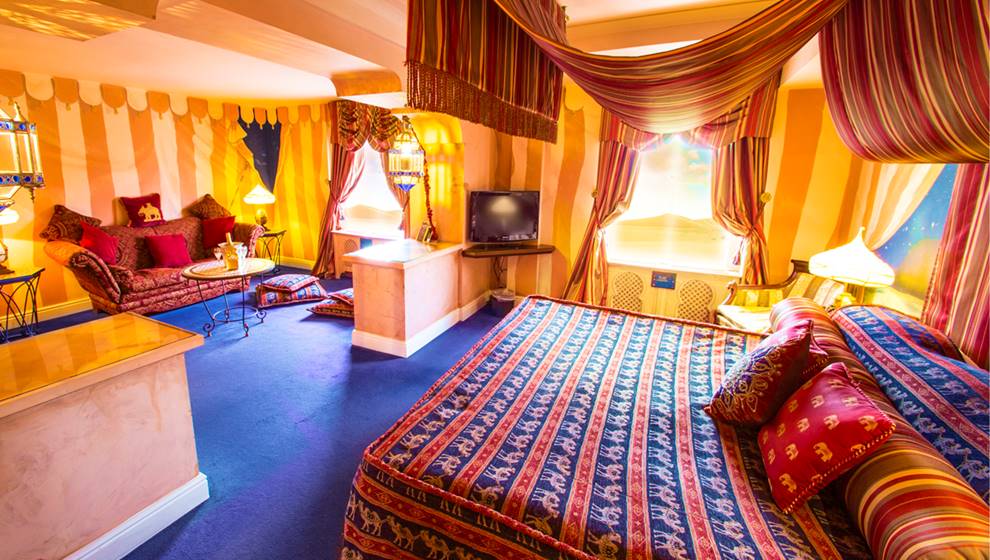 Shangri-La Hotel
If it's a Singapore vacation you're after, then your kids will most likely enjoy a stay in the Shangri-La Hotel. Here, you can choose from a variety of rooms that are catered exclusively for kids with a range of different designs. You can spend your stay in space, or go down much deeper for an underwater experience. They also have safari, treetop and castle designs on offer, because what child doesn't want to sleep in a bunk bed designed like a castle?
Stays here can be a little pricey, with the average cost somewhere in the region of $1,000, but you get a lot of bang for your buck. Your kids won't be getting bored here, that's for sure.
When you want an easy way to make your children happy on vacation, these rooms are the way to go. Just be prepared when it's time to go home. If your kids fall in love with the rooms too much, they won't want to leave them once your vacation is over.