---
If your idea of an ideal camping weekend away involves one-of-a-kind curated experiences led by experts such as living in yurts, old-school wooden caravans, or gorgeously kitted out tents with soft tufty carpets underfoot and fine wines on tap, you'll absolutely love a getaway at the best glamping sites in the U.S. that we've picked out just for you.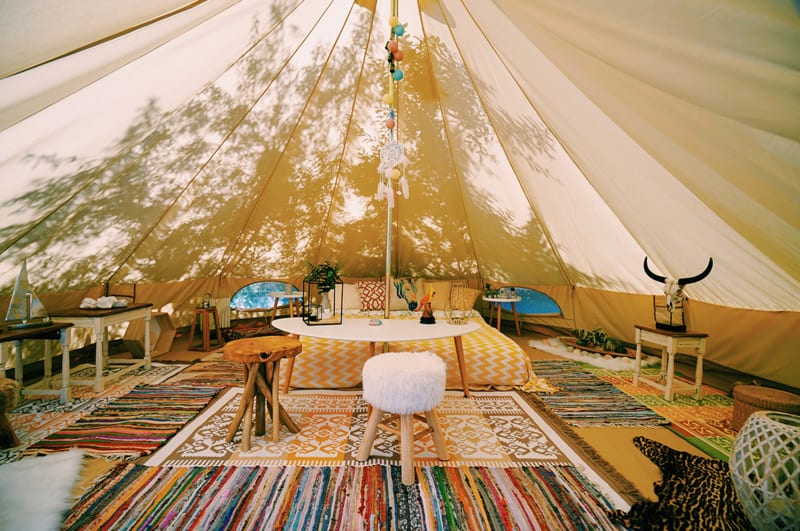 Collective Governor's Island
Kicking off the list is a getaway that's just minutes from buzzing downtown Manhattan. Cocoon yourself in the fine linens of the lyrically named Summit tents. You know you're in the lap of playful luxury when a campfire s'mores kit is part of the package. Explore this car-free island on foot or by bike, try your hand at zip lining or play a round of mini golf. There's plenty do at Hills Park and the National Monument at Governor's Island. Or just sit back and relax with a book and a cup of coffee at Hammock Grove.
The Resort at Paws Up
Luxury travelers in the know swear by the attention to detail at Paws Up. Space is most definitely not a constraint at this glamping site in the thick of the woods. Part of the luxury of glamping is choice, and that's something Paws Up understands so well.
Guests can choose from impeccably furnished digs at multiple spots like the Moonlight Camp, Creekside Camp, or Riverside Camp. Rooms come with heated floors, luxurious linens, and private butler service. Expect breathtaking views of the Blackfoot River, cliffs, and the mountains around. This luxury Montana ranch and Montana resort has haute grilled cuisine and gourmet food on offer too!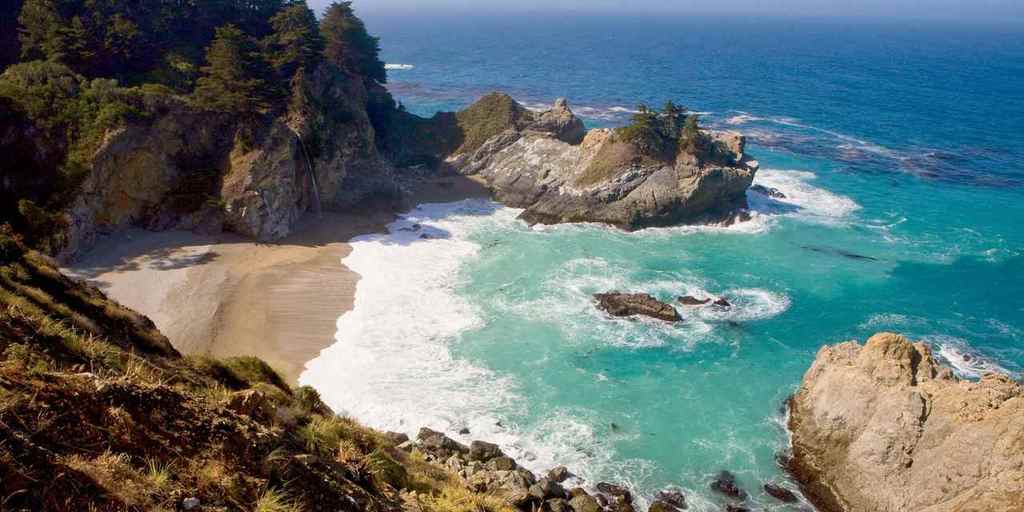 Yurts at Treebones Resort in Big Sur
A far cry from the sparse austerity of a Mongolian yurt, the ones at Treebones come with colorful quilts and cozy furnishings designed to wrap you up in the comfort of luxury. You'll have the comfort of electricity, hot and cold water, and heating. Dine on their refined interpretation of garden-to-table campfire food at mealtimes and spend endless hours gazing out at the stunning coastal views from your expansive redwood deck. There's even a sushi bar if a craving should strike you!
Conestoga Wagons at Capitol Reef Resort
Go back in time when you check in at this unique glamping resort. Soak up the atmosphere of these wagons based on authentic 19th Century designs and updated to modern standards. You'll get up close to the remarkable Red Cliffs as you spend evenings watching the sunset by the warmth of the fire pit. Go horseback riding, pack a picnic, or take a hike into the park. Guests have exclusive access to a private section of the Water Pocket Fold of Capitol Reef National Park.
Under Canvas Mount Rushmore
If you don't want your dream "tent away from home" to cut corners on comfort or exclusivity, make a beeline for this property. This Under Canvas glamping retreat in the Black Hills, South Dakota features safari-style tents that come kitted out with wood burning stoves and separate lounge areas.
Take a Buffalo Safari Jeep Tour or go exploring during the day. Don't miss out on the mouthwatering packed picnic lunches on offer – steak sandwiches, hummus and veggie wraps, salads, and more. At night, enjoy sitting out on your private deck under a starlit sky.