---
Love it or hate it, Euphoria has taken the world of television by storm. It's done this with it's intense characters and storyline, and out of this world; trend setting looks. The makeup artists, headed by Doniella Davy, were given carte blanche to do whatever it took to create the perfect identity for each character. The characters makeup styles broke the mold of traditional makeup applications with bright contrasting colors and an interesting use of textures. Gloss, mat, rhinestones, golden flakes, and glitter were all used to create an exquisite palette of character individuality. The results were spectacular and in this article we are taking an in depth view at the best beauty looks Euphoria had to offer in season one.
Rue's "sad clown" eyes
Accentuating specific features was notable during the season. The artists focused either on eyes, or lips and sometimes both. The characters overall complexions were left in their naturally beautiful form with foundation, blush, and bronzers kept to a bare minimum. Rue wears minimal makeup throughout the season, but makes use of glitter in subtle and emotive ways. Her sad clown eyes were simple yet totally effective at portraying the emotional turmoil within her. A triangle of glitter under each eye was used to achieve this look and her glittery tears at the end of the first episode had us all breathless.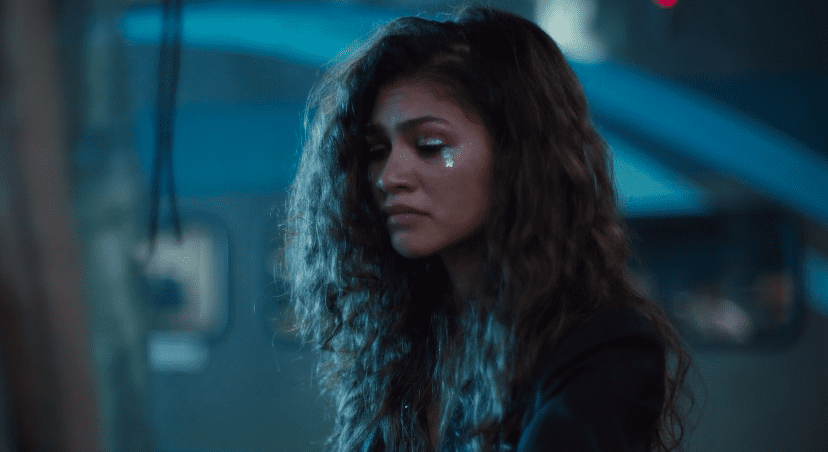 Maddy's dramatic rhinestones
Throughout the season, Maddy's cat-eye looks were captivating. The use of rhinestones around her eyes in different placements and patterns became her on-screen trademark. The artist wanted to capture the fantastical side to Maddy's fierce and precise personality… we think that she captured it perfectly.
Kat's green eyes and purple lips
Talk of the town in episode four was Kat's alien green eyes. Bold and unapologetic, just like her character. The artist let the green do all the talking with these eyes. A cream eyeliner was used in place of eye shadow to create the dramatic effect. No blending and no other colours except for the black smokey lashes. A separate look for Kat which caught much attention was her shocking purple lips in episode five. The artist wanted to capture Kat's emotional journey and these purple lips were up to the task.
Jules' ever-changing abstract eyes
Talk about bold and bright, Jules' eyes were a masterpiece in every episode. Using neon eyeshadows and bold eye liners in non-conventional ways became her typical style. There was very little use of mascara which gave her look something really different to the everyday makeup techniques. That being said, the one that trumped them all would have to be the golden angel from episode six. Glitter brows and gold foil flecked temples gave Jules the appearance of a modern Greek goddess.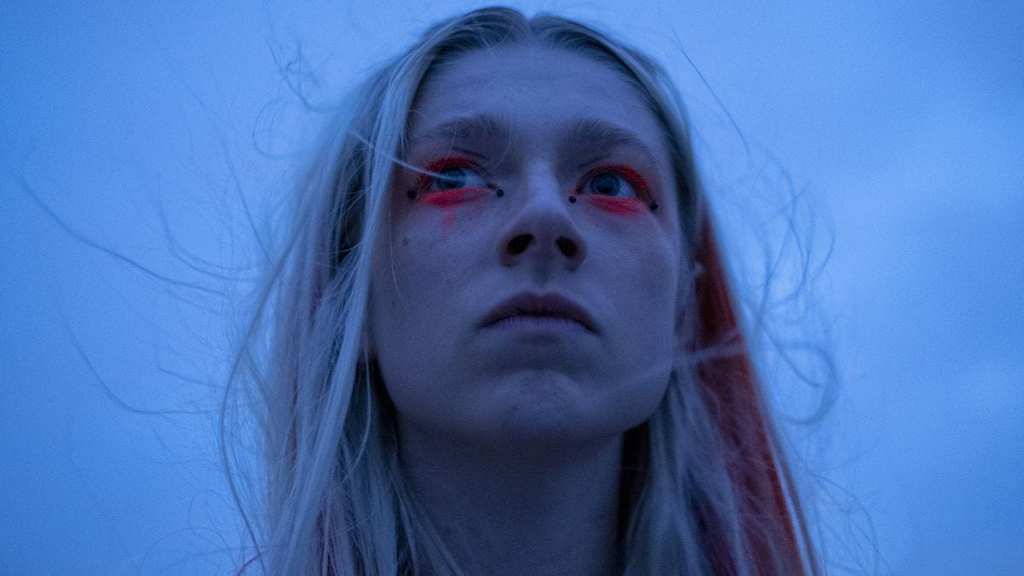 One thing is for sure, these types of makeup applications have never been seen on a television series before. The aim of the artists was to encapsulate the emotional states and journeys of each character and bring to light how it truly feels to be a teenager in 2019. The use of colours, shapes, and texture is meant to be a way that each character expresses themselves. Taking a quick look online will show just how popular these new colour beauty trends have become.